A Photographer Builds Camera-Shaped House 'Click' And Named His Three Sons as Canon, Nikon and Epson
A 49-year-old Indian photographer Mr. Ravi Hongal built a camera-shaped house in Belagavi city of Karnataka. His plutonic love with camera and passion for photography encourage him to build this camera house named 'Click'.
It has been 33 years that Mr. Hongal does photography. In an interview, he said that his love for camera and passion for photography made him build the camera-shaped house which includes lens, a memory card, a flash a show reel, and a viewfinder. It is amazing that a man loves the camera and wish to live in a house that resembled a giant DSLR Camera. Not only he made a camera-shaped house but also named his children Canon, Nikon, and Epson which are famous camera brands.
The three-storey dream house has been made in a way that people can easily identify and recognize it as a camera. The designer of this house is an interior consultant Mr. Y.R. Jadav. Mr. Hongal spent 71 lakh Rupee ($94,500/ AU$135,000) to build the stylish house.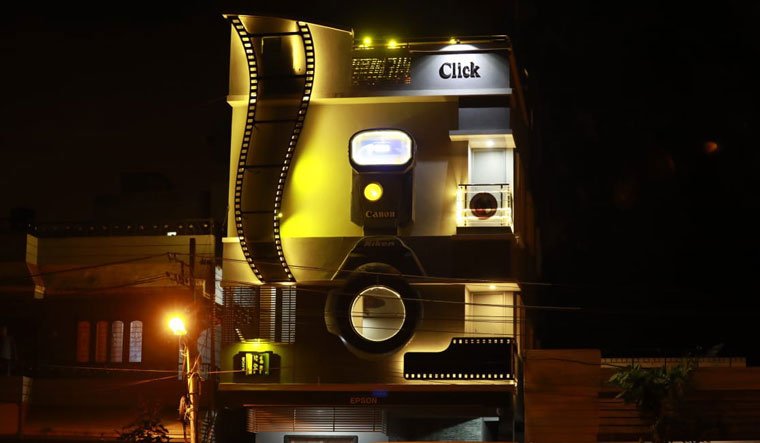 According to news portals, the first floor of the house has been made of in the shape of the Epson printer, the 2nd floor has been built in the shape of the Nikon lens and a bedroom window of the third floor is like a canon flash. Also Canon, Nikon, and Epson have been etched on the wall. There is a 35mm film extending to the top of the building and a camera shutter on the main gate. The house name 'click' is emblazoned in the front side.
This man dedicated each floor to his three sons as it is relatable with the design of the house. Canon is 20-years old, Nikon is 18 and Epson is 13 years old. Also, the father explained that Hongal named them with the things he loves most and his sons understood.
Now, the house becomes an attraction for the people of that residential area. People from nearby areas are coming to visit the house, taking photograph and selfies with it. The pictures of the house 'click' are being shared on Social media.