Sony has just announced the Sony ZV-1 Digital Camera, a compact camera that's ready for vlogging out of the box. I think Sony ZV-1 is the best vlogging camera in 2020.
The Sony ZV-1 is a lightweight, compact camera featuring a one-inch sensor and a fixed 24-70mm equivalent lens, complete with optical and digital stabilization, and capable of shooting 4K at up to 30 fps.
The major specifications:
• 20.1MP 1″ Exmor RS BSI CMOS Sensor
• ZEISS 24-70mm-equivalent f/1.8-2.8 Lens
• UHD 4K Video with HLG and S-Log3 Gammas
• 3.0″ Side Flip-Out Touchscreen LCD
Sony ZV-1 Digital Camera Full Specifications
Notably, the LCD touchscreen articulates fully to the side. Other features include a built-in ND filter, eye-detect and face-detect autofocus, and a 3.5mm microphone jack.
The camera seems to blend the compact size of the Sony RX100 III — as well as the same lens — but stealing many of the powerful video features of the Sony a6100 and Sony a6600.
Sony has introduced a "Face Priority" autoexposure mode which seems like a logical solution for vloggers who move between different lighting conditions. It will be interesting to see how this fares when suddenly required to compensate for strongly backlit situations.
The ZV-1 combines both electronic and optical stabilization, though electronic will crop slightly. It also features a "bokeh button" which, it seems, will instantly shift the lens to the lowest possible aperture in order to create separation between subject and background. With product reviewers in mind, the ZV-1 also has a dedicated "Product Showcase Setting" for presenting objects close to the lens when reviewing products.
With video content creators in mind, Sony offers a bundle that includes the GP-VPT2BT Shooting Grip and a 64 GB SD card, currently available for $846.
prevents wind noise from hitting the microphones. It's typically called a "dead cat."
There's an honest chance your favorite vlogger or YouTuber uses a Sony camera. The company has captured a considerable chunk of the influencer market with cameras like its compact RX-100 and the A6600 with its interchangeable-lens. The cameras are small, relatively simple to operate, and pump out high enough image quality to differentiate themselves from the mostly adequate footage you get from a smartphone camera.
This week, Sony is launching a new camera aimed specifically at YouTubers. The ZV-1 looks a lot like the compact RX-100, which is about the size of a bar of soap and has a built-in zoom lens that you can't swap out. If you're familiar with camera terminology, it offers the same zoom range you'd get out of a 24-70mm lens on a full-frame camera. That puts it slightly wider than the typical smartphone camera when zoomed out, but not as wide as the ultra-wide cameras found on smartphones like the iPhone 11 Pro.
To make it more appealing for bloggers, however, the lens has a wide aperture (f/1.8-f/2.8), which, combined with its relatively large sensor, combine to make naturally blurry backgrounds without having to fake them with a software-based "portrait mode." In fact, Sony has included a new mode in the ZV-1 that prioritizes background blur. It does this by adjusting exposure and adding a neutral density filter to dam some light coming in to make sure backgrounds stay nice and blurry, even in bright settings where a large aperture typically wouldn't work.
There are other software tweaks onboard to make the ZV-1 more appealing to Youtubers. The new Face Priority AE mode locks the exposure on a person's face, so it's always correctly lit regardless of the surroundings. That's particularly handy if you're trying to walk and talk to a camera under varying conditions. Often, if too much bright sky gets into the scene, the camera's meter will try to prevent it from blowing out and will then underexpose the subject's face. That's no longer an issue.
From a hardware standpoint, the ZV-1 employs a simplified button layout that's easier to navigate when you're not looking at the back or top of the camera. A large video record button sits directly behind the typical shutter button, both of which are easy to press without looking. There's now a red light on the front that indicates when it's recording without having to look at the screen.
The display itself fully articulates, so you can swing it around to the front and watch what you're doing as you record yourself. It's a touchscreen, so you can tap to focus.
As for image quality, the 20-megapixel sensor captures 4K footage at up to 30 fps and 960 fps slow-motion footage at reduced resolution. That's not shattering any specification ceilings, but that's also not the point of the camera.
Audio recording options include a built-in mic with three capsules that prioritize forward-facing audio to capture someone speaking into the camera. If you want to go beyond the built-in mics—and you probably will if you're looking for maximum production quality—the ZV-1 offers a standard 3.5mm mic jack as well as Sony's own Multi Interface Shoe that interfaces with its own digital microphones. Oddly, however, there's no headphone jack onboard, which is a common tool for video makers who want to check their audio output before recording.
Because shaky video is horrible to look at, Sony has bolstered its image stabilization efforts, which now utilize both optical stabilization (glass in the lens moves to counteract camera shake), and digital (which uses software to create things look steady). In reality, serious video shooters will still almost certainly want to use an external solution like a gimbal to smooth out their footage.
Beyond the hard stats, a few nice touches round out the ZV-1's vlog-specific feature set. The new Product Showcase mode lets a creator lock focus on a product they want to show off and prevents the camera from getting distracted by moving objects in the frame, or even faces that come into view. That's very handy if you're trying to show off a new gadget. A grip on the camera now makes it easier to hold than the RX-100, which felt slightly precarious to hold in some situations. The body also now incorporates more composite materials to improve heat management. Recording video can make a camera seriously warm—especially small cameras without a lot of heat management.
The camera will start hitting store shelves in June with an introductory price of $749. In July, the price jumps up to $799.
Sony ZV-1: Sony Tried To Build The Perfect Camera For YouTubers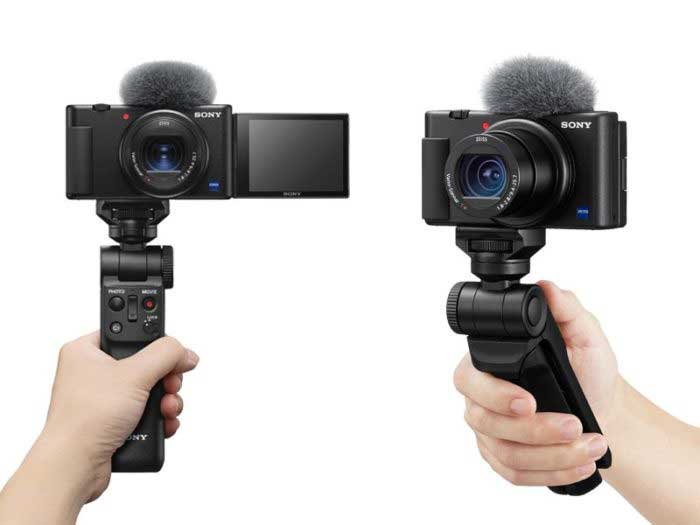 The vlogging camera market has been slowly growing in recent years. DJI's Osmo Pocket camera shoots 4K video at 60 fps with a full-on mechanical gimbal stabilizer for around $300. Its much smaller sensor, however, doesn't enable the same kind of image quality and naturally blurry backgrounds the ZV-1 can offer.
GoPros have been gaining in popularity for vlogging since the company announced its extremely effective HyperSmooth image stabilization system. The GoPro's super-wide-angle lens and slightly awkward menu navigation make it less convenient, even if it's considerably cheaper than the ZV-1.
In the future, expect to see more cameras adding features like this for vlogging to try and entice influencers into camera systems. After all, there are lots of new sneakers to show off and reaction videos to film.